Another image for those so curious… I tend to buy the drinks in smaller batches of 200 or so every few weeks, because a large number of cans gets unmanageable to take to the space (and a single store normally only has a few hundred cans of each flavour anyway). But when a sale happens and the prices are low…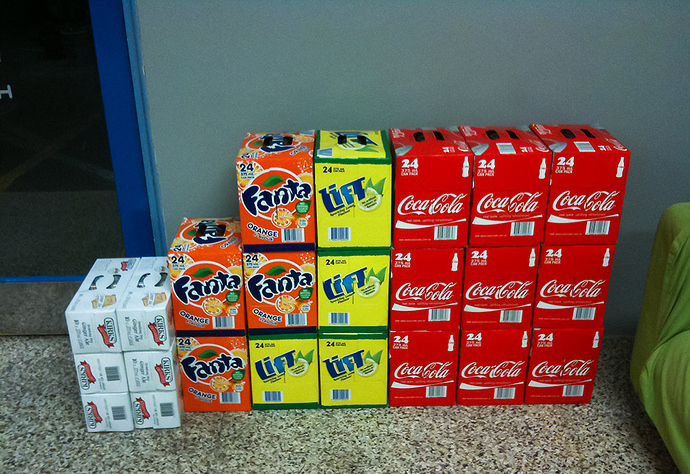 Another 468 cans, another 190 kilograms of beverages. Lugging these to/from my car is hard work.

You might have noticed that the main drinks machine in the green room is running low. This is because we need to reduce its weight to move it to the new kitchen, and letting it naturally run low with time is easier than manually removing & restocking 500 cans. I'm trying to keep enough stock in each line so they don't get completely exhausted, but it's not always easy to predict what will be popular the next week. Apologies if something is temporarily out!
Also, since we have to empty it completely to move the drinks machine to the kitchen, when that happens I'll be shifting around the order of drinks & swapping some flavours. Because why not! I'll also be adding more sugarfree options as soon as the Pepsi Next line is depleted. The members have spoken & low-sugar isn't wanted, it must be either full-sugar or no-sugar.
Also also, due to popular demand, the random button is back! It's the one appropriately labelled RAND();. So long as I'm stocking the machine, the random line will contain at least four different flavours (it currently has 7, some of which aren't available on any other line). In addition to this, if I understand the vending order correctly then no two cans in a row should come out the same. Which I guess makes it only pseudorandom, really.
Are you feeling /dev/random lucky? Well are ya??