Hi Folks,
Some time around Jan/Feb this year I needed to use an angle grinder. I couldn't find any that were safe to use so I went and bought one. I then let the metalshop/membership know (on discord I think). Disappointingly, nothing was done to rectify the safety issues I identified.
Recently a member injured themselves while using an angle grinder in the metalshop and required an ambulance call out. This accident was in part caused by human error and because the angle grinder had no guard or handle installed.
It is completely unacceptable to allow such dangerous tools be available for members to use without basic safety precautions like the guard and handle being in place. Therefore, I've removed all angle grinders that didn't have a guard and handle installed and locked them in the server room. Given this issue was identified ~6 months ago, and we've recently had a significant injury, I feel this is a reasonable action. I had a brief look around where they're stored and couldn't see the missing guards/handles anywhere obvious.
The large angle grinder had a guard and handle installed so that was left where it was. There was one other angle grinder I left out. It had a handle and no guard, but had a brush attached to it. This grinder (or any I missed) is not to be used with a grinding or cutting disc under any circumstances until a guard is put back on it.
The three angle grinders I removed were placed in a box and taped up, then stored in the server room. These are not to be removed from the server room for any reason other than to put the guards and handles back on.
If you don't have access to the server room and would like to make the angle grinders safe again, let me know and I can organise a time. I took a picture of the offending angle grinders below.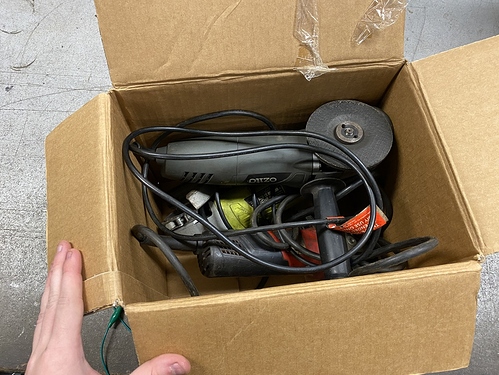 p.s. the ozito one was donated by myself a while ago and had a guard when it was donated. Someone has removed it and put it god knows where…