For the up coming competition I wanted to provide some kits for sale that would help beginner competitors enter. But the code and connection for sensors requires a bit of knowledge. I wanted to lower the threshold further.
So I have been toying around with this idea forever, finally getting around to it. So many 'arduino' sensors use different connections, communications, and data handling. It's annoying to code and connect especially when you are trying to join several sensors and you only have a couple of pins or you are using multiple sensor librarys and they conflict with each other (usually trying to use the same timer).
…anyway, if you could have all your sensors or components connect by i2c then you only need two wires for up to 128 nodes!
What competition? Links -
I'll need to have an arduino brain and then plug in modules for
Line sensor
Motor driver
Ultrasonic sensors
Screen
Accelerometer
Encoders
etc
To test this idea I started with the Ultrasonic sensors. I still have A LOT to work on with the code, especially to make the communication more efficient but it works!
I strapped the US node to my crappy hacked toy car with a 600mA motor driver and a reclaimed battery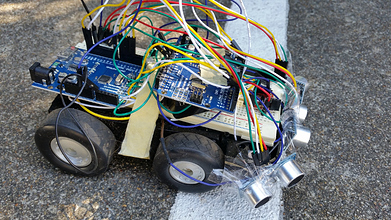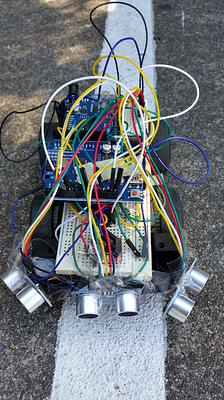 Surprisingly it kinda worked
I will start posting the code for the nodes in github but for the interested the bad code for the brain is here and the US node is here