I've had a chat with a few people and most seem to agree this idea is pretty salient, so lets discuss it on the forum.
Theres talk about having some kind of cover between the containers, because it makes the area between them super useful. The question is how to build it. I would propose that we build truss beams out of 25mm SHS (or potentially 30mm). Specifically something like a warren truss: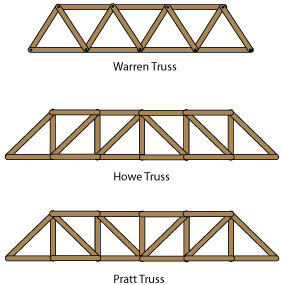 A really rough guesstimate says 1 truss would take 3 lengths of steel, at $31 a length from scottmetals thats ~$90 a truss. I think you'd probably need 3-4 truss' per container gap, so lets guess around $350ish each.
We cannot drill into the containers, so I think the current idea is to weld brackets to them that we can later grind off, and bolt to the brackets.
You can get roofing supplies on gumtree reasonably cheaply, ie: http://www.gumtree.com.au/s-ad/inala/building-materials/secondhand-roofing-iron/1115077248
So lets say each span can be roofed for <$500 each. You mount the whole thing at a slight angle so rain pours off in the right direction. If we want walls (not a bad idea) we can knock them together with this stuff: https://www.bunnings.com.au/3600-x-900-x-19mm-green-tongue-particle-board-flooring_p0460014 or alternatively more roofing materials if we have enough.
I'm advocating steel due to strength, ease of assembly and the fact we can build a fairly low profile roof which is apparently helpful re the landlord, rather than a big a frame out of pine or similar. It's also not too cost prohibitive. We could maybe go cheaper doing it in framing pine but I'm not too convinced on that?
If we do this, we can make one space appropriate for the blacksmiths and perhaps also for kilns/ovens and other similar large 'hot work' items. Another space could be allocated for large project member storage as well as storage of materials like steel and plywood in a weatherproof area that frees up our main work areas more. Lots of options, up for discussion etc.
Finally, if we did this, its entirely plausible we could put an awning over the space between the containers and the wood shop again, which might make that area useful as well.
Thoughts?