Advice please;
I'm wanting to build a bitter plate electromagnet. Essentially this means many (read: hundreds) of layers of foil with an insulating layer between.
An example of a complex pattern;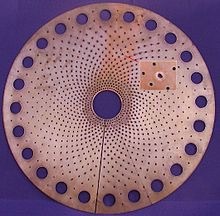 The holes allow coolant, and structural support. The thin layers allow many "turns" and the width allows high currents.
Also, it's interesting.
I've thought of a couple of ways;
Etching from template
placing insulator on one side, foil on the other, with toner transfer or similar resist
pros; known technique
cons; doesn't cut the insulator, limited throughput, difficult etching through aluminium oxide, dangerous heat
CnC milling
milling a composite of insulator and aluminium foils, or a stack thereof
pros; semi-automated, faster than etching, cuts foil and insulator
-cons; may be single layer at a time; tool head likely to rip foil; ? Feasibility on space hardware
Plasma via CnC
making a simple X/Y stage CnC, and using the tried-and-true graphite pencil with 9v battery stack
pros; achievable machine build, interesting, able to cut foil
cons; not able to cut insulator, spark hazard, special machine build
EDM via CnC
pros; interesting machine build, able to cut foil
cons; not able to cut insulator, higher degree of difficulty and voltage, spark hazard, special machine build
Truly experimental;
5) Lasercutting foil via matte-coat spraypaint
similar to Lasercutting traces in PCB blanks; spraypaint the foil, etch the spray and hope it takes the foil with it
pros; existing machine, minimal extra work (spray can also be insulator?)
cons; untried (although done with PCBs as above), access to cutter, limited throughput
Press and die
pros; once made, reusable, simple mechanically, able to leverage existing equipment
cons; making said die, manually pressing each piece, needs to be harder than aluminium foil (I.e machined steel?
I'd appreciate thoughts
Cheers,
Lauren