November 28, 2020 10:44 PM
Hello,
I have a garage.
This garage doubles as:
a home office & gym,
a storage place,
a workshop - (vacuum forming, fabrication, soldering, electronics),
and a 3D printer farm.
I am able to stay organized in this space for the most part, but every few months a critical mass of clutter accumulates, and the space becomes very 'noisy'. At this point I re-organise everything, and vow that this will be the last time I will do so.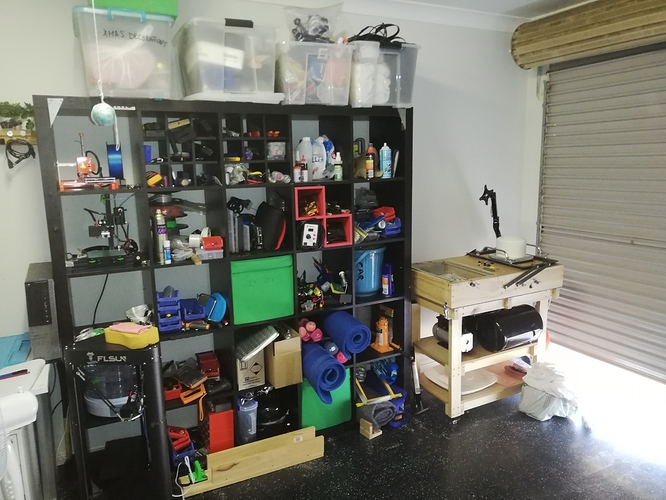 Though the space is small (and used for more activities than is probably sensible), and I have a lot of stuff (components, materials tools etc.), surely it is possible to break this cycle.
The issue[s] is/are stem from some variation of the following themes:
I don't remember if I have a thing needed for a project, so I buy one. While I'm waiting for it to arrive I find an example of the thing. Now I have a superfluous thing.
I am 99% convinced I have a thing needed for a project, (but actually don't), and the phantom thing is lumped in with other similar things. Both the mess made and time taken looking for the thing is proportional to how convinced I was that I had the thing.
I am 50% convinced I have a thing, but hey, I was also 99% sure I had that other thing. The thing is cheap and I'm loath to make a mess looking for the thing I only seem to remember having, so I buy another thing. Now I have another superfluous thing.
Ideally, everything should have a place and everything should be in its place, but before I can work on providing a sensible place for everything (as far as is practicable), I need to make an inventory of what I have.
To achieve this I am going to deploy an open source django app called 'InvenTree', which is an "…open-source inventory management system…" which is "…designed to be lightweight and easy to use for SME or hobbyist applications.", and "…provides a RESTful API, a native Python library, and a powerful plugin system."
2020-11-29T00:14:00Z
…well that was much easier than I thought it would be.
All that was involved was:
create a virtualenv and call it 'inventree'
install 'invoke' which is a build tool using pip3 (a package manager)
clone the InvenTree source code using Git
navigate to the source directory and and use 'invoke' to install
Initalise the database and create an admin user
launch the server and go to http://127.0.0.1:8000/
Then you get: