Due to being in hospital I was away from the space for a bit, but I'm once again back. The Vigo machine was temporarily not accepting coins or vending cans, but it looks like it's been been all fixed now with the highly precise and technically complicated procedure known as turning-it-off-and-on-again.
A&W Creaming Soda has proved way more popular than I anticipated. Seems you all loved it! We're almost out of this option, then another brand-new-never-vended-before option will be added to the international drinks machine. Because I can't resist keeping things fresh & new.
Speaking of never-vended-before, I've decided that I'm gonna start making the random line a bit more random. For at least the next two months, the rate of "rare" cans is gonna go up as I start adding at least one rare can per week. I won't bother posting on here about the ones we've had before, only for the brand new ones, just to document it on here publicly so people other than the lucky winners know the lengths I'm going to to get us a continuous supply of new random drinks. However, in return for this the rate of "cheaper" cans is going up. However, in return for this, the rate of standard "import" cans are going to go up too, while "local" cans will go down in odds. Basically there'll be roughly equal chances of getting a "cheaper" can as either an "import" or "rare" can, to help balance out the prices. Basically this means less local cans will come out of this line and more import/rare cans. So the random line is getting more valuable with higher variability!
This week's rare random drop is Sangaria Cider - but not what you think. The word "cider" means a completely different kind of drink in Japan. It's kinda like lemonade, only not really. Similar to Ramune, if you've ever had that before.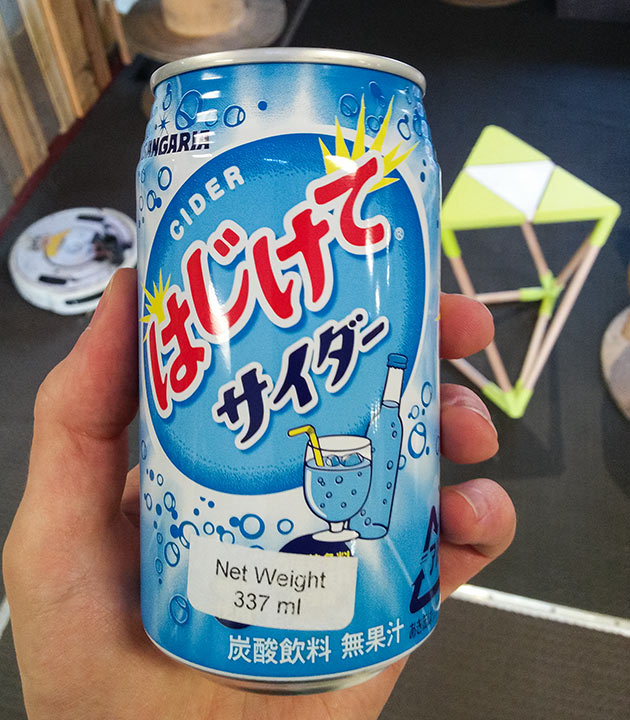 (If the random line were a loot box, the highest potential reward value's gone up, and the odds of all non-local options are now more equal than before)