####Codename: Ship of Theseus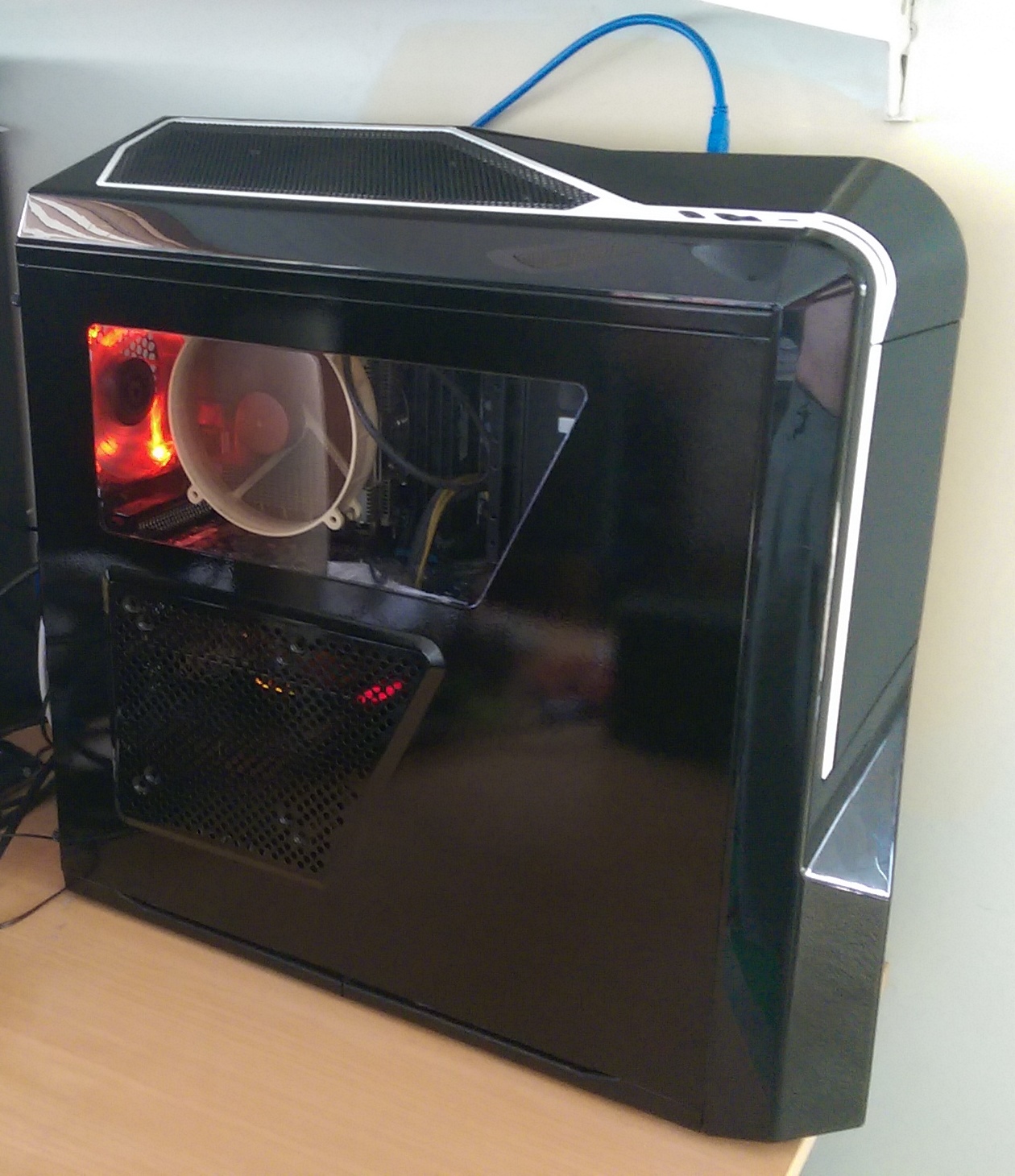 This is a gaming PC which, through iterative upgrades, has remained competitive for over a decade. Right now, it's still specced to kill – Bioshock Infinite renders smoothly at 5760x1200 in Eyefinity – so it saddens me somewhat that I will have to part with it. The monitors already have new homes lined up, so sorry in advance.
I've considered boxing the parts individually and transporting it, but as not all of the original boxes are around, I can't package it to a standard I'd be happy with for an international journey. So instead, I've decided to sell this wonderful machine. I'd prefer to sell it as a whole system (to avoid ending up with leftover parts), but if you really just want the sound card, or the Blu-Ray burner, or if you'd rather shave one SSD off the price, I guess selling some of it is better than having the whole thing sitting around collecting dust.
Whole system: $899
Parts: Make an offer.
Case: NZXT Phantom 410 (black with white trim)
All USB ports functional. All included fans have been replaced with BitFenix Spectre and Spectre PRO fans mounted on rubber grommets. With the fan speed switch set to minimum, the machine is barely audible.
CPU: Intel Core i7-3770K
Despite being the K model, it has never been overclocked, so it has plenty of life left in it.
CPU cooler: Noctua NH-C12P
It's been around the block, but it's still solid as a rock. One of SilentPCReview's early favourites.
Memory: 16GB Corsair Vengeance low-profile kit
1.5V version. DDR-1600, stable at 8-8-8-24 timings.
Mainboard: Gigabyte Z77X-UD3H
LGA1155 CPU socket. 2x PCIE-x16 slots. CrossFireX / SLI support. "Deluxe" PCI-Express sockets which won't cut your fingers when installing cards (I can't stress how amazing this feature is). Running BIOS revision F17.
GPU: 3GB Radeon HD 7970 (Gigabyte GV-R797OC-3GD)
*Factory overclocked (ie. above AMD's reference). 1x DVI-I, 1x HDMI, 2x Mini-DisplayPort. Stock Windforce 3X cooler. Having 2048 shader pipelines and a 1GHz core clock, this card still beats many GPU offerings from this year and last. Just so you know, AMD's R9 280X is a rebadged 7970, if that tells you anything about how this GPU has aged . *
Sound card: Asus Xonar D2X
Onboard sound is for plebs. This thing will simulate 5.1 audio plus a room's acoustics flawlessly. I often have to check if I've left my speakers turned on while I'm using headphones, it's seriously that awesome. Will output in Dolby and DTS digital formats if you have a kickass surround setup.
Blu-Ray burner: Pioneer BDR-206
In case you ever want to burn a BR-R. Only ever used to rip music from CDs, DVDs and Blu-Rays. It cost me $1 more than a combo drive at the time, so I figured, why not. For some reason, BR-Rs never caught on. Who would've guessed?
SSD

#1:

OCZ Agility 3 240GB (S.M.A.R.T. info)
SSD

#2:

Kingston HyperX 240GB (S.M.A.R.T. info)
Contrary to popular belief, SSDs can handle a tonne more writes than anyone expected.

#1

has been an OS drive which never exceeded 50% capacity.

#2

has been full of games nearly all the time, written to only when adding new games to my Steam library.
Power supply: Cooler Master 800W Silent Pro
Semi-modular (the mainboard power cable is fixed, the rest are detachable). The fan spins, but I've never heard it make noise.