Those who know me know that I own a lot of geeky t-shirts. A lot of geeky t-shirts. I've often joked that I have so many, I could wear a different one to the Hackerspace every single Tuesday for an entire year without repeating myself.
Someone threw the gauntlet at my feet, the challenge has been accepted, and now it's on like Donkey Kong. For the rest of the year (possibly longer), I won't be wearing the same shirt twice to the space! This thread will be my own pictorial evidence & tracking system so I know what shirts I've already worn, to help me make sure I don't double up.
My own personal rules:
No repeats allowed. No exceptions. If I own two of the same shirt, I can't wear both. They have to be different in some way. Cut, style or size doesn't count, it's all about the print.
They have to be geeky. Obscure geeky is totally allowed. No plain t-shirts or anything boring, unless there's something uniquely geeky about it - some unique compound impregnated into the fabric, a "plain" looking striped t-shirt that is actually a replica of a style worn by a video game character, etc.
I'm going to do my best to wear unique shirts to the space at times other than Tuesday nights, but no promises here. I only have so many geek shirts that I'm willing to get dirty at working bees or covered in oil from my car.
To start with, an origami rabbit. The same design used in the video game To The Moon. I blame Daniel for not focusing correctly, but I blame myself even more for not checking the image after he had taken it.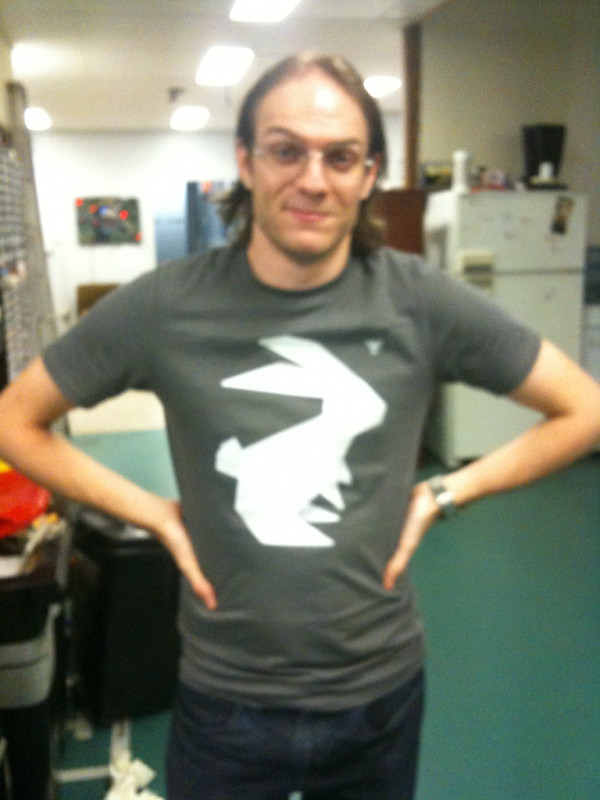 Let's see if I can go the whole year.