Following after https://forum.hsbne.org/t/new-container-layout/4237
So @White has been busy the last couple of months designing and preparing a paintbooth to use at HSBNE. A capacity that has been lacking at HSBNE and would be certainly an added bonus for members.
This is his design.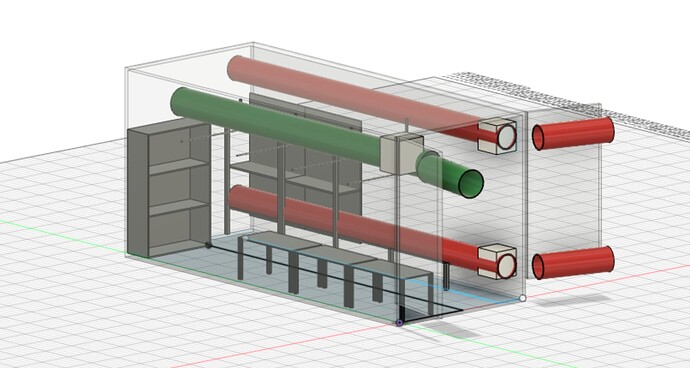 The ducting would provide constant fresh air in the container.
There have been some discussions about getting people together to talk about how we can design it for electrics, plumbing etc. But in that process we have started to realise the serious health and safety implications that can be had when things are not done properly. And the associated legal liabilities associated with that. It is not like that HSBNE would be able to get away with things that people would do at their homes (EG, paint flushing into the river through stormdrains, dangerous particles ingestion by members, PPE enforcement etc). So we are talking about actual real danger and big fines for non compliance.
to name a few:
chemical storage,
fumes while stored and while in use,
air quality
flammability
Cleaning of any equipment without a grease trap.
This is the worksafe website with more information:
Instead of building a spray booth we would be able to buy one and get it assesed by an external company. This would mitigate some of the problems.
So we would like to propose a meeting to do a risk assesment on this project. And get the Executive on board for any future legal / insurance issues that can arise from this.