Hi-ho, hackers!
Clean water is nice. As the guy who spends a lot of time buying & stocking the vending machines with bottled water, people might think I have a vested interest in selling more bottles of water. But staying hydrated is important and above petty things like profits!

The water from the tap in the end room with the laser cutter has started to taste a little funky and its flow rate was getting pretty low. This is normally a sign the filter is in need of replacement. So, that's exactly what I did!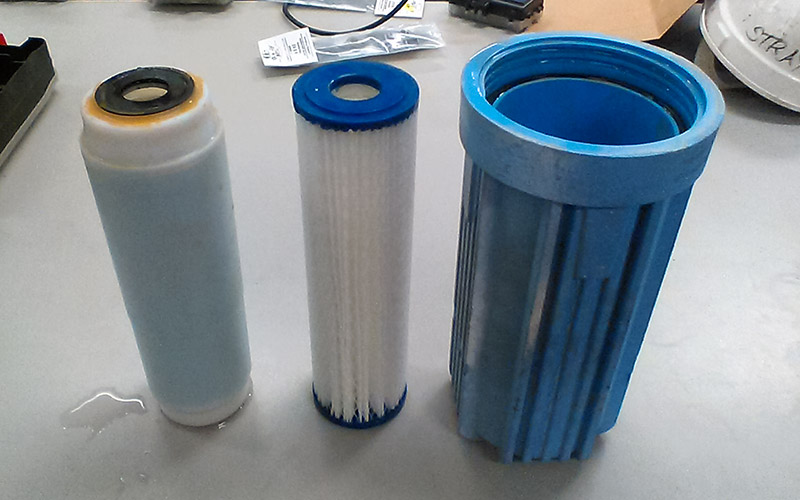 Old filter on the left, new one in the middle, filter housing on the right
To say the old one was clogged up is… a gross understatement. And also a "gross" understatement. The new one won't filter absolutely everything as it's not an activated carbon filter, but it's a reusable filter which will be handy given our water quality. I highly suggest you only drink from either here or the quad water filter.

For anyone who cares, it's a 1-micron pleated polyester washable filter in the standard 10" by 2.5" size. There is a shut-off valve just before this water filter but I don't recommend you use it since it's seized up. The master shut-off valve at the corner of the main building doesn't shut off this water, so the easiest way to shut off the supply to wash this filter in the future is via the whole space's water meter and shut-off valve, which is located outside the fence in the corner between the main building and the science lab.
The filter cost me $16.43 but I'm not going to ask to be reimbursed for this from space funds, because I think clean water is important. Anyone who wishes to thank me is more than welcome to buy me dinner on Tuesday (or chip in a few dollars for it!).