Woodworking Cause.
Lets get this started!
Location: Left-hand end of large shed. Labled woodworking room.(label missing - First project is to make one

)
Cause leader: Brendan Hall aka hally (happy to stand aside for any keen/interested member @UnBayleefable ?? )
Cause members:
(please express interest below or on paper)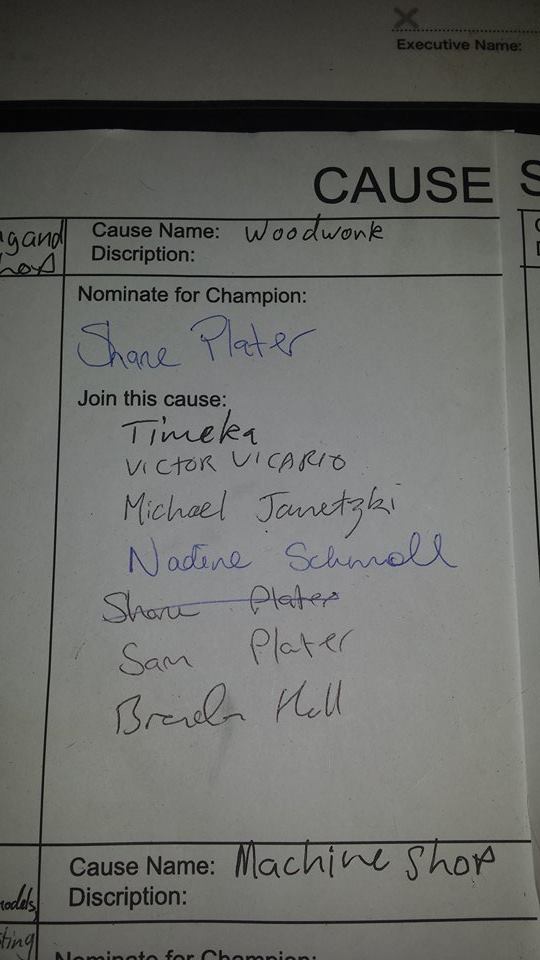 Classes: omg so many things to make and teach.
Planned Classes: (Several can be held on one day. I'm also happy to re-run classes)
Powertools 101 sharp and noisy
Handtools 101 Hammertime
Equipment maintenance cleaning and sharpening 101 sharpest tool in the shed
Small CNC 101 fancy whirly gig
Materials 101 to wood or not to wood
Make a box and induction on tools. jewellery, tool box, bird house, mail box
Shelving for the space so things can rest easy
Chainsaw 101 point away from face
Bush furniture tables chairs n stuff
Planter box / Garden stuff make a hole and fill it with dirt
Build the space a couch (collaboration with creatorium) gotta sit somewhere
Doors, hinges, locks, windows, sliders everything that opens and shuts
Frames building faster than termites can eat
Meetings: We will host a meeting to discuss our space how we keep it clean and projects and stuff
Lots of causes will want to meed on a Tuesday. So we don't clash let me know a time that suits. I'm shooting for 6:45pm ?
In the meantime please feel free to post suggestions and desired Learnings and other chatter.
Group Projects: potential collaboration with creatorium cause to make new space furniture and decorations. I'd love to hear some ideas
Under construction: this info page and the cause room.
Thanks @Thermoelectric for your continued awesome work today helping make the woodworking room functional!
Hally