you should talk to @fridge/andrew irvine, who is currently building one at the space
Fridge, I'm keen to look. I lent Wixted the book on the Gingery one. Have you had a look at it. Do you think the precious plastics one can get the same pressure as the design like ginger uses with a frame around everything?
Havent seen this book yet. I think the precious plastic design can do alot more volume than the model on techkits. The leverage from the machine, at the right temperature, should be able to push approx 330ml of molten thermoplastic per pump. Will be testing out the new band heaters that just arrived this afternoon. Hoping we can get shredded plastic from a shredding machine @DreadPirateRobinson might have.
This is the Gingery design
Still apparently is no sturdy enough according to many reports, which is why I feel the precious plastic ones looks a bit thin.
I've used one of these before and they're awesome. They're not as necessary these days with 3D printing, but an idea I've had for a while is printing your parts as a fairly thin skin then filling the inside with an injection moulding tool like this. You would get a far cheaper item and infinitely stronger (you can even mix glass or carbon fibers into the plastic to make FRP).
Or you print one item, make a mould and then make as many as you need.
@fridge I'd be keen to meet up with you. I'm looking to explore DIY plastic injection avenues.
Since 2011 I've amassed quite a bit of experience with making silicon molds (degassed silicon via a vacuum chamber); casting resin under pressure in a pressure chamber; 3d sculpting in zbrush; and getting my (finely detailed) sculpts ready to print at a bureau. I've also got a hand cranked roto casting frame.
Resin casting is a tad wasteful so am looking to use recycled plastics hence my interest in plastic injection.
Would love to catch up
Cheers
J
Nundah
Count me in if there is going to be any discussion
Or if you want to make a number of the same part, you can 3d print and then
make a mould for it.
@Fridge - Any movement on this?
If not I will start on my own design I have been sketching up on the back of napkins.
@catprog - Are you still keen?
@cottontail - What kind of shot size do you need for your figurines? I assume you are planing on doing multiple parts per pull. I am looking at maybe 30 cc of plastic maybe a little more to account for sprues/runners. Is this going to be large enough for you ?
I am still keen. Will be overseas next month so no time at the moment.
Not sure what shot size. My figures complete end up about 30grams of resin.
Would love to switch over to use recycled plastic and ditch the resin, hence the desire for a plastic injection machine.
Am still keen.
Been getting the retaining wall done at home so be reluctant to spend money elsewhere.
Waiting to see my tax return!
I'd say with an all up model weight of 30 grams you would have to spit the parts across two maybe three shots. Sprues, runners, gates and plugs all add up to a lot of weight.
Not a terrible thing especially if you have common parts and special parts. Maybe one shot could be all the common body torso parts, one for limbs and then have a third shot for special things like santa hats and different stage props.
Look at this monster @fridge; @catprog; @andrew1973!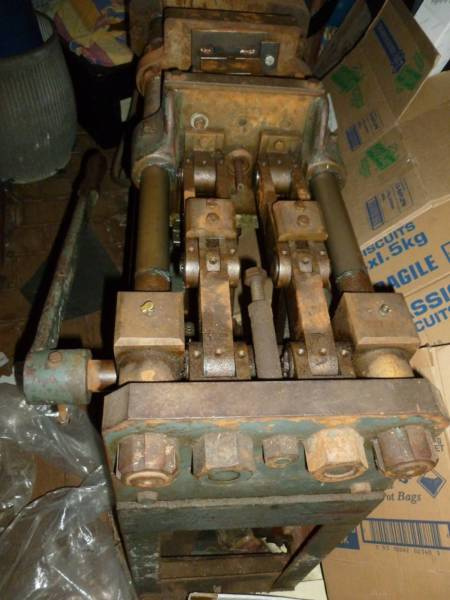 Seller's description
Date Listed:
10/09/2017
Last Edited:
10/09/2017
Condition:
Used
I have a small (although 200kg approx) old hand operated plastic injection moulding machine. The clamp end is handle operated and the injection is another handle.
The element is 240volt.
I would like to see it go anywhere but to scrap metal!.
I am an ex Die Setter and I think the machine would suit training young die setters because you feel the injection, (learn the computer crap later) you can feel the plastic flow and the injection hold through the handle.
Otherwise someone wanting to mould a simple plastic component, (in your shed, which is what I have used it for) perhaps out of recycled plastic might find this a valuable bit of kit. I will include a couple of small moulds you perhaps could modify to your needs.
https://www.gumtree.com.au/s-ad/lake-innes/miscellaneous-goods/plastic-injection-moulding-machine-hand-operated-240-volt/1159271292
My boss has a pallet sized injection moulding machine he would like to donate to the HSBNE, for membership. He also has some moulds that can be re-machined for future jobs, and would be interested in setting up and teaching a few people a few things about it.
The machine is Boy branded and very good quality. Its a prity sweet deal, who can ok a free membership for him for this?
Im interested in getting a few people together to install the boy machine and get it running for others to use. Im happy to help people design some parts and possibly create a mold. We would have to meet the executives first and have a chat, but who is interested meeting and getting this moving?