It had been discussed a bunch lately about putting a bit of spit and shine into the kitchen area to make it nicer. This is something thats been discussed for ages, so its great to see interest again and momentum and things happening. Ryan and I have put in a bunch of work redoing the plumbing and installing the zip tap and soap dispensers etc. I know Ale and Francis have been doing something re cabinetry? And Dave is keen to get the area looking better as well.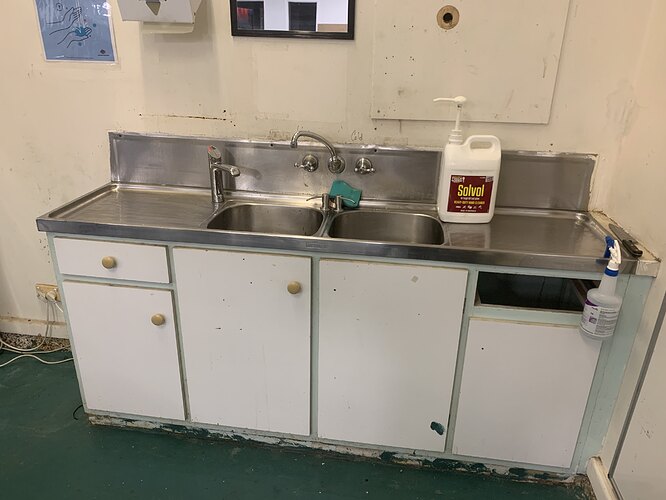 For reference, heres some previous discussions:
https://forum.hsbne.org/t/greenroom-building-refresh-2019/3322/21
So this thread is to try and get everyone talking about what the current ideas and plans are.
Questions
How much do we want to spend on it? Is the goal cheap fixes to make what we have better, or are we basically tearing out and redoing?
How much cooking do we want to support? Is a microwave enough? Are there other appliances that would add value and not create problems/mess?
What do we want it to look like? should we do something cool with our gear? Laser cut backsplashes, etc.
What about lighting, what is important to us?
What are our priorities around storage?
Feel free to add your own questions to the discussion.
Stuff we have available to use:
2x Matched Dishwashers currently in cold storage.
Stuff we could/should buy?
1x Half Sized (Bar) Glass Front Fridge. 130L ones are about $700 new.
Commercial style stainless steel bench/sinks? They go from about $500-$3000 depending.
Better faucet system, such as something with a sprayer?
Some kind of cover for the cabinets, take the doors off etc and put a panel of acb/steel/etc over it?
Some kind of backsplash thats not terrible. Sheet of steel/aluminium? Acrylic? Tiles?

What about a bigger/better mirror?
Goals?
These are just my thoughts, lets discuss and add to them:
Keep the walls and surfaces clean and clear as possible. Ie the kitchen bench should not be the location for anything to be stored upon. This looks better and is far easier to clean.

Undersink supplies is better than stuff on walls. ie soap. but some things just have to go on the wall, like towel dispenser.

Vending machines out of entranceway so we can make that first impression area much better.
No storage for cutlery/plates/bowls etc, other than in the dishwashers. Use a clean/dirty system, some basic home automation etc. Just have a known stock of cheap ikea stuff thats easy to match and replace. Plastic > Ceramic, No Glass.
Somewhere appropriate for spray and wipe, sponges, basic cleaning gear.
No storage. The store room should be for storage.
It would be really good to have some built in place for the bins? Either just a proper home or a shroud/cabinet or something that hides and neatens them.
Accessibility needs to be kept in mind. Can someone of any height or strength utilise and or maintain the kitchen? is it usable in a wheelchair?
Some Ideas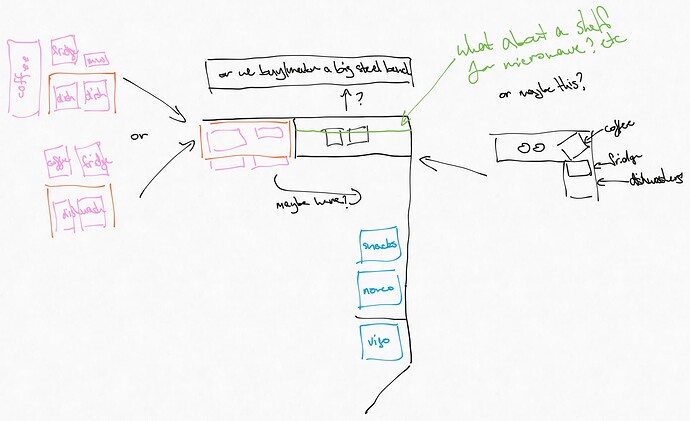 It really depends on how far we want to go. I know some people have thoughts around cabinetry? It just depends on what we want to spend.
Last Thoughts
I think a glass fronted fridge with some sharpies on retractors/magnets for people to mark their stuff would be a big quality of life improvement. Makes it easy to see stuff left/forgotten in there. And we dont need a big fridge (or freezer) now that theres one in the BBQ area for storage of supplies there.
The coffee machine can be downsized significantly. The stand it sits on is water supply and refuse (coffee pucks). We could sit it on a countertop with a drawer underneath to catch refuse, and plumb it into the water supply. The rest can be put into cold storage.
The double dishwasher thing I think is pretty key. I dont want to have to have dishwashers that need stacking/unstacking and putting away etc. I figure we have the two already, we put them in and run them once/twice a day automatically on some kind of schedule. You can buy dishwasher detergent as a bulk liquid, perhaps a little mod to put a tube/hole to the machines and we can automate it fully? dunno.
What does everyone else think?