This Build Log is an update on the ongoing project of The Wonky Queenslander Art Car, a project started by HSBNE members in 2015. Originally written by @Kelly
Click here for the original Build Log
Author: Jeff Chau
---
By now, I'm sure you'd all be familiar with a thing parked in the quad that looks like an unevenly-shaped tiny house on wheels.
Sheila is an art car, and the first project of a crew that would later be known as the Wonky Queenslanders.


FAQs


Who built the original Sheila?
The Wonky Queenslanders are a volunteer-run collective, founded by members who wish to cultivate a decommodified alternative to commercial live music.


Why build an expensive portable sound system?
One of the WQ principles is that of gifting; not dissimilar to the Gifting principle championed by Burning Man.
The WQ crew shares a deep passion of music, and they pop-up to different music, charity and protest events to deliver a free and inclusive musical experience.


Sheila's History
n.b. the author of this Build Log is a recent addition to the WQ crew, and as such some minor inaccuracies may be present in the following history.


The yellow car
The initial concept of a Wonky Queenslander art car was a vehicle that could be driven and performed on, with a mobile generator.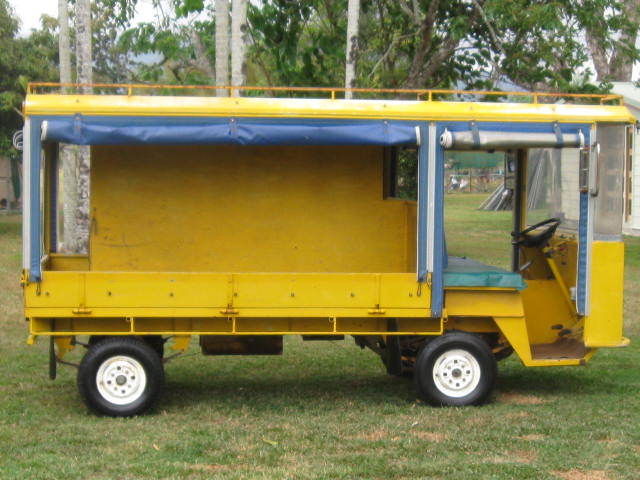 The strip and outfit
The result:

Sheila 1.0, sporting her original undercarriage
In 2016, Sheila 1.0 supported several local and interstate events, including Burning Seed, Earth Frequency, and Rabbits Eat Lettuce.


The base transplant
circa September 2016
By now, Sheila had been to her fair share of nights in the dirt and bogged one too many times while being driven around. In May 2015, her undercarriage broke under its own weight at Rabbits Eat Lettuce. A medium-term fix was to borrow a bigger caravan base and tow Sheila 1.0 on the bigger base, but something needed to be done for the long term.
After much deliberation, the crew decided to transplant the house onto a larger caravan base which would achieve three things:
A larger framework to add a second room and front patio to the house
A stronger base that could actually be towed as is
An opportunity to add decorative flairs to her walls and roof
before
The idea was to preserve as much of her integrity and style as a Queenslander during the transplant.
after


Sheila 2.0
circa February 2017
Sheila at Jungle Love, circa Nov 2016
After Sheila's debut as a towable art car at Jungle Love, the crew worked on adding some of the aforementioned flairs to her exterior. These included carved posts, column brackets, internal light fittings, and the odd window.
And that is Sheila 2.0 to date!
For the sake of brevity, dozens of little working bees were omitted from the above build log as Sheila was maintained and renovated by different HSBNE members over the last two years. She has since been expanded with two collapsible wooden stages, affectionately known as her extra verandahs.
She has been worked on and tested, on average once a fortnight, both on and off the HSBNE quad in 2017.


Future Plans


Stairs
Currently, Sheila's base is approximately 80cm (about three stairs high) from the ground, which can be difficult to step up to, especially when loading and unloading heavy speakers.
Reflooring
Sheila's floorboards have unfortunately deteriorated at an alarming rate in the three years since they were built. The number of sunken, snapped, and loose floorboards is fast approaching the number of undamaged ones. To prevent the possibility of falling into a hole in the floor (Home Alone style) new floorboards have been purchased and will be installed.
Wiring
During performances, Sheila houses three speakers ("tops"), two custom built subwoofers, a sub-amp, two LED strips, three sets of fairy lights, and two mixers – all of which require a power socket. Three pairs of sound cables are also run between the speakers, subwoofers, and central mixer.
At present, the wiring situation is supported by hooks, zip-ties, and continual leaps of faith. The plan is to strip down parts of the walls to install sound and power cables into the walls and ceiling so that they are no longer a tripping hazard or exposed to weather.
Repainting
Between the several incidental mud masks, dings, and scuffs Sheila has endured, her paint is looking quite peaky. After the structural renovations are complete, she will be given a fresh coat of weather resistant paint (please comment any recommendations)
You are welcome to take a look around Sheila when you're at HSBNE, and if you have any advice on how better to fix up her problems, please PM the author!